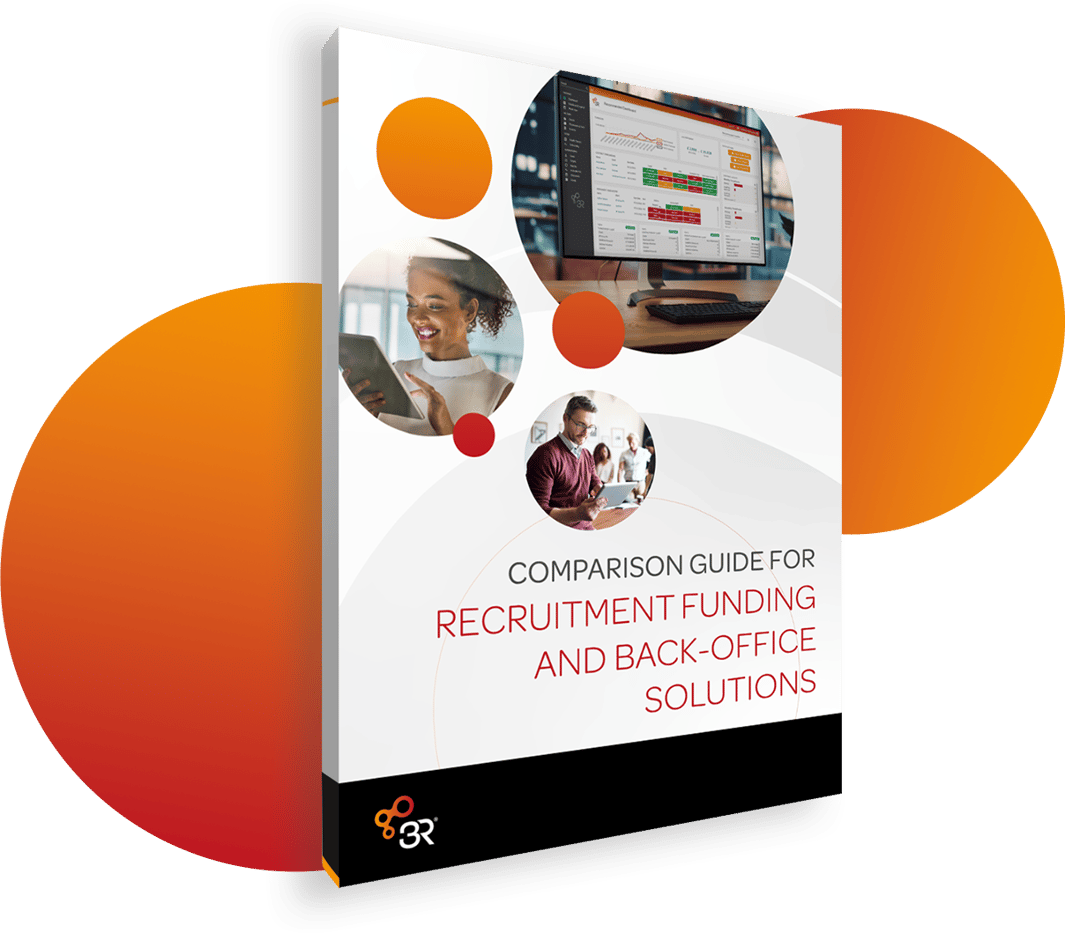 Are you evaluating your funding and back-office solution?
Let's dive into the details and compare your options.
Explore a variety of options, from traditional Invoice Discounting to outsourced Funding and Back-Office providers, and choose the best solution to fuel the growth of your recruitment agency.
Included in our guide:
Outline of typical recruitment funding options
Detailed comparison checklist, to help you consider every aspect of your back-office solution
Killer questions to ask suppliers to ensure you cut through those sales pitches
Interactive supplier evaluation templates, to help you make informed decisions
For your free guide, fill in the form.
What can 3R offer your recruitment business?
Flexible Funding
100% funding solutions for contract and permanent placements. Alongside our technology, our compliance and accounts team minimises risk and takes care of the admin:
‣

Credit limits and insurance
‣

Online Timesheets
‣

Daily payroll
‣

Invoicing & Credit Control
Whatever your current funding arrangement, our back-office platform and funding enable you to maximize your growth as well as streamline your services.
Back Office Platform
Our secure back-office platform offers you confidence and security in real-time, it's simple to use and encourages best practice.
Ultimately providing you with a reliable means of funding contractors and permanent placements.
Our innovative processes bring in the recruiter, client and contractor throughout, and are designed to simplify the authorisation of hours worked, invoicing, payroll and debt collection through automation.
What our clients say
3R's back office is super intuitive. I've worked with 3R's competitors previously and it wasn't the case.

Everything is 1 click away rather than 5, the dashboard has all you need but there are other ways to get to the right info, just as you need it. I said early on 'It's like you really understand recruitment'

The 3R back-office technology has benefited us as a company and our operational performance by simplifying much of our payroll processes - providing clear visibility and reducing the effort and turnaround times of resolving contractor and client queries significantly.

We've received countless compliments from both clients and candidates on the speed and efficiency of our back-office systems.

By working with 3R we are able to offer contractors a 48-hour payroll service after they've submitted their timesheets, which is well above industry standards.

The technology has a "human touch", especially the Back Office - it's efficient and easy to navigate and track your progress with contractors and invoices.

The speed and ease of paying contractors is a real plus and one that always receives praise from our clients and candidates.
We've retained 98% of our client-base in the last 2 years.
Read about our client successes and experiences of working with us here:
See for yourself...
Our team of experts will give you a tailored demo of our back-office platform, to show you how our intuitive features can enhance your recruitment business.
Book a demo