Talent Locker
Start-up, back office & funding Solutions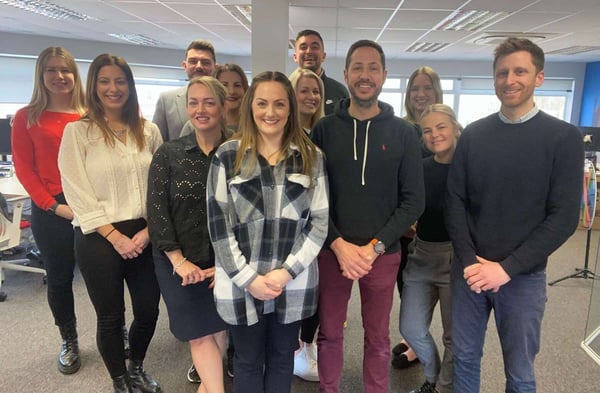 "Talent Locker is now 8 years old! From our inception in 2015, we have been blessed with a fantastic story of growth, which now sees us heading towards a record year!
We have some amazing clients and candidates that we work with on a preferred or exclusive basis and work with some really interesting companies from SMEs to FTSE top 50s where they enjoy our approach and ability to find superstar candidates. "
£9M
Annual Turnover
52%
Turnover Growth
61%
Client Retention
21%
Increased Headcount
50%
Female workforce
95%
5* Google Reviews
"We've been supported by 3R since our company was founded in 2015 (8 years total), and similar to many businesses, we experienced lows during the disruption caused by the pandemic lockdowns, though we have bounced back incredibly since then.
2021 was a record year for Talent Locker, with 2022 surpassing that and projected growth of 21% for 2023. We have a strong and highly motivated team which is continuing to grow alongside our business. We are also proud to be highly recommended, as many of our candidates placed go on to recommend us to their new employers."
We, of course, could not have achieved this growth—from an ever-expanding team, new office locations, overcoming the pandemic lockdowns, and setting up new divisions within our company—without the incredible help and support from the 3R team.
3R have supported Talent Locker since they started up with all the tools to enable them to concentrate on their clients and candidates, filling vacancies and giving great service. We help them to be operationally efficient, compliant and manage business risks - which in turn helps them continue to grow their agency each year.
Great deals on job posting software and job board credits
Full CRM software with CV pharsing and auto-matching tools
Fully outsourced Back-Office software & support
Invoice factoring for Contract and Permanent placements
O365, and our VoIP phones.
The CRM and back-office technology provided by 3R is extremely efficient, easy to use, and reliable. We constantly receive compliments on 3R's systems from many clients and candidates on ease of use and speed of service.

By working with 3R we are able to offer contractors a 48-hour payroll service after they've submitted their timesheets, which is well above industry standards.
3R have also customised their Back-Office for Talent Locker - to support them through SEM growing pains. When Talent Locker created a new projects entity, we were able to adapt our system so that both entities could be run day-to-day through the same portal and dashboards while retaining separate business reporting and invoicing for easy compliance.
Talent Locker are continuing to scale at pace – in terms of profit, team size, service offering and brand reputation. Their vision is: to be the Recruitment Consultancy most recommended by people driving change and we will be their trusted partner for the journey - we'll continue to add value and give the best support to help them stand out in the market and remain competitive.
3R has gone above and beyond to support Talent Locker. The team is extremely professional and helpful, going the extra mile for us whenever we've needed them.

Not only are 3R exceptional in service quality and responsiveness, but they also provide added value through their industry knowledge and personalised support.

We couldn't recommend them highly enough.
Examples of the added value we provided Talent Locker are:
FTSE 100 client retention - we worked tirelessly with a key client to agree a bespoke invoice and payroll process to ensure Talent Locker could service them as they specifically required.
Service value - we help co-create educational content for their clients & contractors to showcase the benefits and value of our tech solution in their service offering and as such help them to charge a premium.
System training - we support new starters with back-office training and because we both use HubSpot for our marketing, (and we have super users in our team) we give best practice advice across that system too.
Market positioning - we share insights and trends and support with writing industry content for their blog.
Championing women in STEM - As a shared objective and with both companies having a 50% female workforce, we work together to highlight the issue, educate through our joint content and put ourselves out there as role models.
Top firm, top people, pleasant to deal with and very much on the ball! Highly recommended!
It's been great to have the support of the 3R team while working at Talent Locker! I've collaborated with Kim and Kajal on a couple projects recently and they're both fantastic! Really responsive, supportive and friendly. Can't recommend 3R highly enough!
Talk to us today
Being ex-recruiters, we're always happy to talk!
Get in touch with our experienced team to explore your bespoke solution.