Are you ready to switch provider?
Our expert transfer team will work closely with you, to understand your requirements and reasons for switching, whether that be from another outsourced provider or banking facility.
We follow guidelines of the Asset Based Finance Association (ABFA) to fully audit your ledger, gather all client and contractor details and buy the existing debt on an agreed date.
Simple as that.
We'll train you and your team on the platform and monitor every action closely, to ensure a positive experience for everyone involved!
Book a Consultation
The 3R back-office technology has benefited us as a company and our operational performance by simplifying much of our payroll processes - providing clear visibility and reducing the effort and turnaround times of resolving contractor and client queries significantly.

Copello Global Ltd have been working with 3R since our launch in 2018 and their support during our growth has been invaluable.

The speed and ease of paying contractors is a real plus and one that always receives praise from our clients and candidates.

3R's funding capabilities have enabled us to scale the business and keep control of our cash flow.

Partnering with 3R has saved us so much time; more than a day's work, each week! There are no discrepancies to un-pick, and clients and contractors are totally satisfied. We can't wait to elevate our position within our sectors by partnering with 3R and their easy-to-navigate back-office.
Switching is easy
So how does it work? Read on to see what's involved
1

3R

Understanding your business

We will take the time to understand

Your business
Your reasons for change
Your growth plans

Our dedicated, expert team will

Guide you through onboarding
Confirm your notice period
Request a copy of your ledger

2

3R and Recruiter

Audit

We will...

Audit your ledger
Assess risk
Check IR35 compliance
Credit check your client-base
Proceed with ABFA comm's
Gather contractor information

It is a detailed, tailored onboarding process dependent on your business and client-base.

3

Recruiter

Communications

For a seamless, end-to-end process we will

Provide you with communications for your contractors and clients
Enable a smooth transfer in line with the transfer date.
Give you and your team training
Explore and set-up CRM integration

4

3R

Transfer to 3R

On an agreed date we will

Buy and insure the agreed debt
Give your contractors logins

They can make the most of

NO timesheet deadline's
Daily payroll
100% payment accuracy

3R's secure, automated platform and dedicated team will stay in touch and be on hand whenever you need support.
Why partner with 3R?
Dedicated Switch Team
Our specialist transfer team will guide you and your SMT through the transfer process.
100% payment accuracy
Be assured, your contractors will be paid quickly and compliantly.
the 3R way
80% of our friendly team have worked in recruitment and are dedicated to your success.
daily payroll
No timesheet deadlines! Contractors are paid quickly and compliantly with remittances.
Real-time Data
Quick, easy to access, real-time financial and performance data.
IN-house Dev team
Our tech platforms are updated and adapted with changing legislation and often, client recommendations.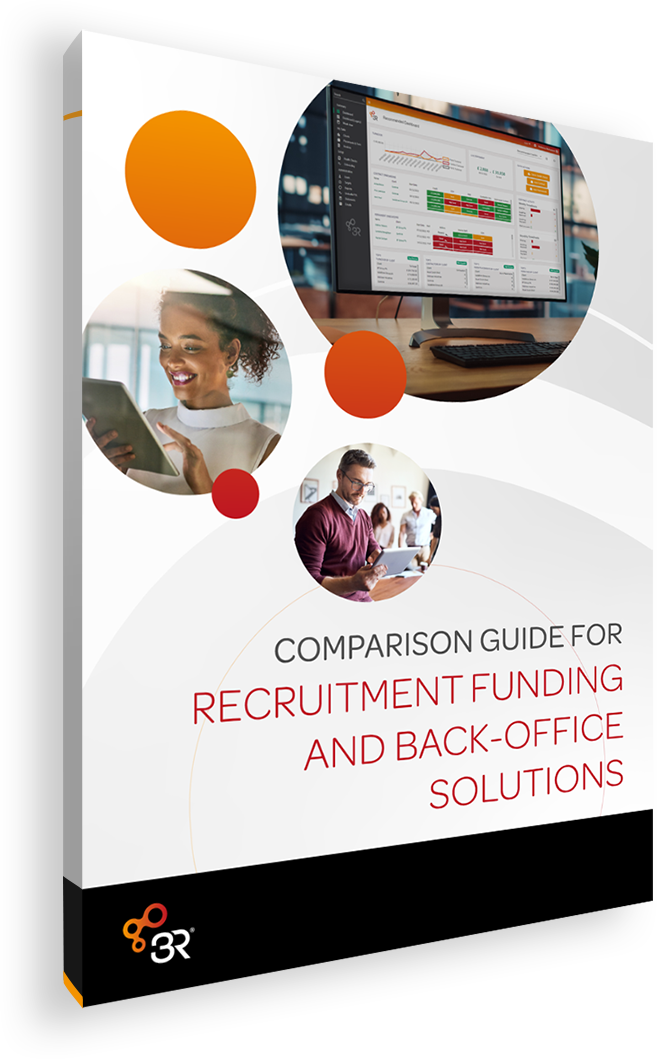 Funding & Back Office Comparison Checklist
Evaluate all your options to make informed decisions and choose the best solution to fuel the growth ambitions of your recruitment agency.
Download
Client Success
A typical recruiter transferring to 3R will...
30k
Increase in Weekly Turnover
34%
Increase in NFI
56%
Turnover Growth
98%
5* Contractor Rating
100%
Contractor Payroll Accuracy
2 Days
Contractor Gets Paid
Talk to us today
Being ex-recruiters, we're always happy to talk!
Get in touch with our experienced team to explore your bespoke solution.