3R shortlisted for two top TECH awards!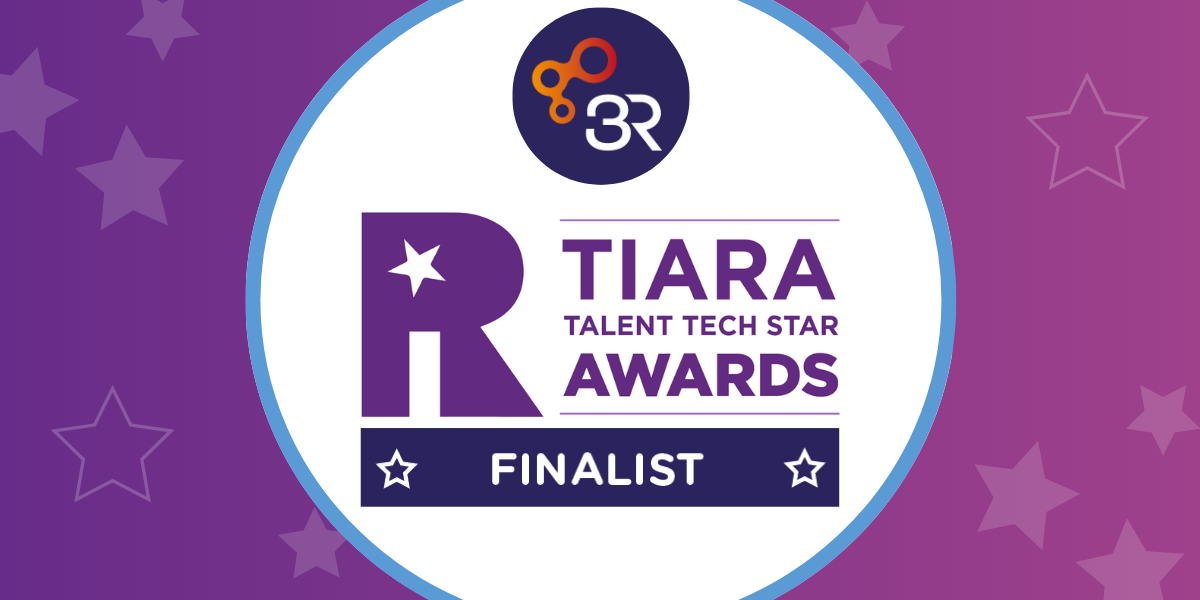 We're delighted to share the news that 3R has been named as a finalist in two categories at TIARA Talent Tech Stars 2023.
The annual awards shine a spotlight on the best HR and recruitment technology solutions available today, for employers, recruiters, candidates and contractors.
"Each year, our impressive TIARA shortlist recognises those championing transformation in different parts of the talent ecosystem and shows the impact of talent tech on everything from candidate experience to onboarding and workforce management to productivity and inclusion.

Our TIARA judges are looking for innovation with impact, visionary leadership and customer-centric solutions delivered by purpose-led cultures. This is our most impressive shortlist to date." said Ken Brotherston, CEO of TALiNT Partners.
Contractor Solution of the Year
The first category 3R has been shortlisted in is Contractor Solution of the Year, which recognises a solution that best demonstrates commercial value and performance improvement across attraction, assessment, management or development of contingent workers.
What makes 3R a great fit for this? Our purpose is to help level the playing field for SME recruitment agencies, by providing flexible funding, intuitive technology and unrivalled customer support that enables them to be competitive.
Our fully-outsourced, easily integrated back-office technology solves day-to-day agency efficiency problems, from timesheets to invoicing and debt collection. It provides easy contractor payroll, compliance and real-time data management through best practice automated processes that reduce risk and educate recruiters on running a profitable contractor-based business.
Our differentiator is our ability to listen, adapt and flex our solution to help customers stand out in the market and win a wider range of clients. We help customers educate their clients about the benefits of our tech solution in their service offering and as such they can charge a premium.
We advocate for all our customers; we're invested in their journeys and want them to succeed.
"Having judged at the TIARA's last year I now understand the work that the judging panel put in to analysing entries and have a deep sense of pride about becoming a finalist, for the second year in a row!

We're a close, dedicated team at 3R, who are committed to raising the bar for recruitment start-ups and SME's and maximising their growth - this is a testament to the hard work and dedication of our whole team." said Kim De'Ath, Director of Client Experience at 3R.
Talent Tech Customer Service Award
The second category 3R is shortlisted in is the Talent Tech Customer Service Award, which recognises excellence in client service and best value in the delivery of a solution to improve to improve talent acquisition, management or development.
For 3R, providing outstanding customer service is something we strive for above all else.
Our key focus is customer retention and this relies on us providing exceptional customer care for our recruiters, their contractors and end-clients. We know providing the best service comes down to employing the best people and supporting them with the best training and professional development. It also comes down to our strong inclusive culture, we have a 95% client retention rate because our people first philosophy drives our customer service. We are responsive, friendly, recruitment experts that become trusted advisors.
---
The winners will be announced at a glitzy awards ceremony being held at The Montcalm, Marble Arch, London on 29th June 2023. Wish us luck!